First workshop in Spain: Inclusive model of hybrid and remote work
Logroño, La Rioja, 30th May 2023
The workshop "Inclusive model of hybrid and remote work" will be held on the 29th of June, 2023, from 16 to 18 h CEST. The workshop is aimed at human resources professionals, middle managers, diversity experts, NGOs, public bodies, and groups at risk of exclusion. The duration of the workshop is 2 hours and will take place online.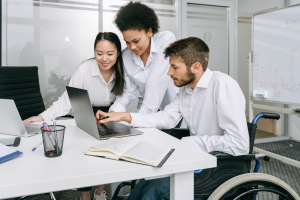 The objective of the workshop is to determine the challenges and needs faced by HR teams and people at risk of exclusion in the hybrid and remote workplace. It also seeks to co-design action plans to address these challenges. This workshop is presented as a unique opportunity to learn from diversity experts and ensure the inclusion of all people in the workplace.
The workshop is part of the European project Rework: Leading inclusion in hybrid and remote work environments. Both the project and the workshop are initiatives that seek to contribute to a more diverse, inclusive, and equitable society.
The results of the workshop and additional educational material will be used to develop a training programme that will help institutions face the challenges of hybrid and remote work.